Stephen O'Malley, Metal Hypnotique
Published on May 18, 2017
Founder of the drone metal group Sunn O))), the guitarist Stephan O'Malley's art is situated at the crossroads of hard rock and new music. Meeting with an artist in search of mediation, guest at the next edition of IRCAM's festival ManiFeste.
KTL, the duo you created with Peter Rehberg is performing a second time during the ManiFeste festival. In June, you will play on the esplanade in front of the Centre Pompidou echoing Fujiko Nakaya's fog sculpture. How does this context influence your music?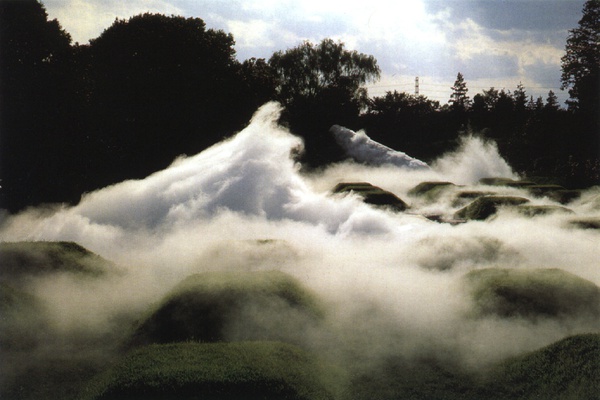 My main influence is really Fujiko. She is incredible, she's a very open and free artist. She was the one who imagined the scenario and the design of the fog. It is the first time she works with IRCAM. This institution for musical research, also interested in live performance makes it possible to discover new zones for creation.
I have lived in Paris for ten years, but I come from Seattle. It's really far from here in many ways! There is no museum there of this size. Playing in a place that is so popular and visited is a real honor. This is exotic for me, I'm an immigrant here! It is also really exciting because the concert will give me the chance to work on a large scale and work on the spatialization of the sound with a very good technical team, notably with Manuel Poletti. In Paris, with Sunn O))), or other projects, I have played in small venues like Instants chavirés, in larger structures like the Cité de la musique-Philharmonie de Paris, or at the Église Saint Merri. There is an audience for venues like these. The connection between Saint Merri, IRCAM, and the Centre Pompidou is very interesting: Saint Merri is the most progressive church in Paris, IRCAM is the largest center for acoustic research, and the Centre Pompidou is devoted to contemporary art.
What are your connections with new music and great composers such as Pierre Boulez, György Ligeti, and Gérard Grisey?
Grisey was my first contact with new music. Around 2008, Sunn O))) was working on a new album—Monoliths & Dimensions. We wanted to develop the echoes between electric and acoustic instruments, but we didn't know how to go about it. The person who wrote the arrangements was obsessed with Tristan Murail and Gérard Grisey. This is how we discovered the spectral music or Grisey and Iancu Dumitrescu as well as what was going on at IRCAM. Grisey knew perfectly how to create the illusion of a sound that comes from somewhere else with an instrumental ensemble. Conversely, I know Boulez more as a conductor than as a theorist or composer. When he founded IRCAM, he created connections among contemporary arts, including music.
Underground cultures like metal and noise are coming into our institutions. On the other hand, do you think contemporary composers like Alvin Lucier or Élaine Radigue are going to become "popular"?
They are much better known now by the younger generation and the avant-garde than they were in the past. They are both typical examples of emerging consciousness, of a major spiritual transformation. I only met Élaine Radigue briefly, but Alvin Lucier invited me, with the guitarist Oren Ambarchi, to premiere Criss Cross at the Louvre. It was a mind-blowing experience: super intense, hypnotic, meditative music. Last October, in Surich, there was a 3-day festival for Alvin's 95th birthday. The festival programmed a dozen concerts with music he had written at different times. We saw lots of young people there.  The concerts were truly hypnotic moments, moments for meditation, right from the very first seconds.
When people think of metal, they don't necessarily think of meditative music. What does meditation represent for you?
Playing music is meditating: not Zen meditation in the full sense of the term, but a trance; a little like a kind of yoga. There are a lot of connections between geometry, music, dance, trance, and meditation.
Do you think people listen to your music to meditate?
Absolutely! I am making a film of a Sunn O))) concert. The director of photography took a lot of footage of the audience, people dancing and are…. let's say "ecstatic". Our concerts could be lived like a very violent experience, but our audience is more and more meditative. This is what interests me: what does the audience come to experience?  What void does Sunn O))) fill up in them? How does the feeling that you are missing something in your life lead you to meditation? Our audience is bigger and bigger and it's not just heavy metal fans.
I wouldn't say that our concerts are High Mass but it's a huge honor to see the audience go so far within themselves with our music. Essentially, our concerts are master classes on hypnosis!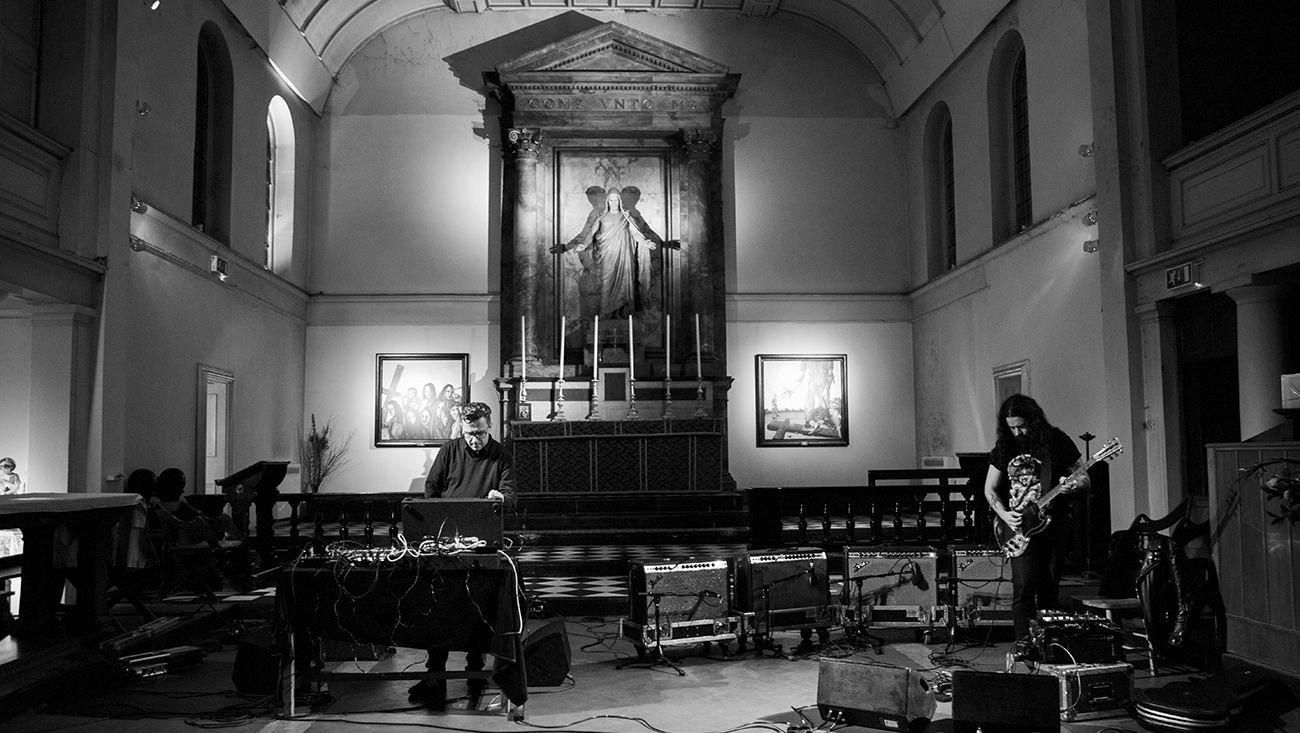 You are going to work with a Japanese artist, Fujiko Nakaya. You have often played with Japanese musicians: Keiji Haino, Merzbow, Boris…. These artists have attracted Western musicians for a long time. How would you explain this fascination?
I love the theory of Julian Cop in Japrocksampler on the strangeness of psychedelic Japanese music. Rock, jazz, classical and experimental music all arrived in Japan at the same time: just after WWII. The Japanese assimilated all of this really quickly in their own way, but the Western vision can be biased. The Japanese society remains very closed off. It is difficult to go there, it is difficult to stay there. In 2007, I lived in Kyoto for six months. That's where I met Fujiko. In 1945, she was a teenager and was confronted with the meteoric arrival of Western music; I was fascinated by this. We immediately understood each other. Later, I met the Japanese group Boris at a concert in Seattle; we got along perfectly right away. I went back to Japan 3 years ago and I'm thinking of going back again next May. I always wanted to play with Corrupted and Kengo Iuchi, an incredible acoustic guitarist. First and foremost, I work with artists for their music, not because they are Japanese. But there is still something with Japan: once you have performed there it changes your perspective. Everything there is different: concert halls are smaller, but the sound systems are more powerful than in big European venues. The audience is smaller, but the intensity is…. huge!
(Stephen O'Malley & Peter Rehberg) KTL
Composition, arrangement, and performance
KTL is the group created by the musicians Stephen O'Malley and Peter Rehberg beginning with Kindertotenlieder. Their first album was released in October 200...
Fujiko Nakaya
Artist
Fujiko Nakaya was the first artist to use fog as a scultptural media. This does not mean that she doesn't fashion it as she wishes: her approach consists of a subtile collaboration wi...